Wayfinding signs are made to direct people to various places in your business, like the service center for an auto dealership or the emergency room at a hospital. Wayfinding requires experience with traffic flow and site usability to guide patrons from various entrances to their ultimate destination on your property. A well-designed wayfinding package provides a lot of information in a minimal display so visitors are not overwhelmed with directions. Let CNF help your customers find their way around your property so you can generate the most profits possible.
What Are Wayfinding Signs?
Wayfinding signs are navigation resources on your property. They can be used in a parking lot to show where people where to park their vehicles, or they can be used inside your building to help people get where they need to go. These signs can be made from a variety of construction materials, including:
LED Displays
Routed Aluminum
Vacuum Formed Plastic
Neon Lighting
Channel Letters
Cultured Stone Bases…and Much More!
Most wayfinding signage is set at eye-level so customers driving or walking by can easily read them. They are not a primary source of advertisement for your business, but they are made to improve a visitor's overall experience at your establishment. You can look through the images to the right to see examples of wayfinders our actual customers are using to this day. To learn more about wayfinding signs, call (918) 587-7171 to speak to a member of our sales team.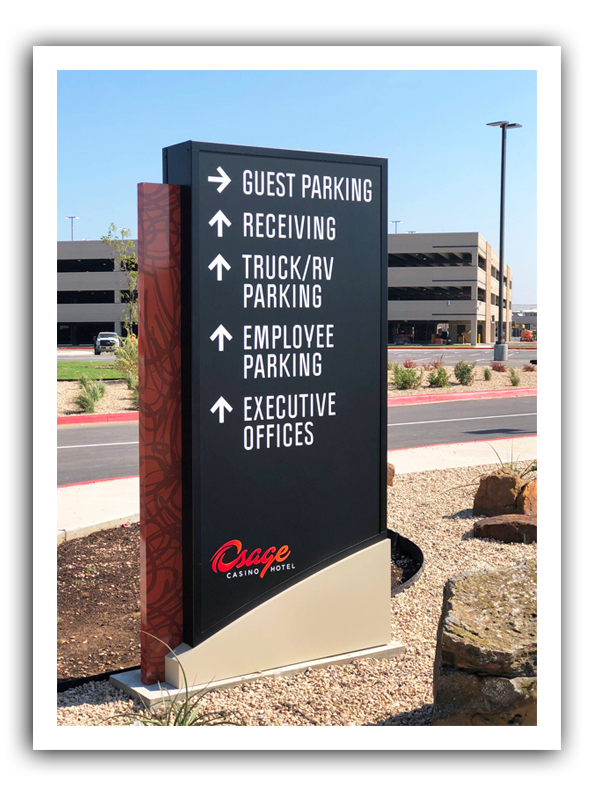 Common Applications for Wayfinding Signage
Wayfinding signs can be used on the interior or exterior of a building, depending on its size and the nature of its operation. These signs are usually reserved for large businesses with multiple floors, entrances, or departments to help guests navigate their way around. Some businesses that benefit from wayfinding signage include:
Hospitals and Medical Clinics
Business and Professional Centers
Schools
Airports
Zoos and National Parks
Casinos
Hotels
Museums
Give your customers quick access to their target locations with wayfinding signs throughout your property. CNF Signs can create a full set of navigation signs to direct people through your parking lot or building with ease. Contact us today at (918) 587-7171 to learn more about our custom sign manufacturing.
Other Popular Signs
Pylon ID Signs, Casino Signs, Monument Signs, Neon Signs, Projecting Blades, Wall ID Signs, Channel Lettering, Interior Signs, Wayfinding Signs, Pole Signs
To learn more about pylon signs for your business, contact CNF Signs today at (918) 587-7171. Our knowledgeable sales representatives will go over your many options to determine which sign style is going to generate the most business for you. Get a free quote for your custom pylon ID signage and discover the difference this powerful advertising solution can make for you.