It all began in the early 1920's when a French Scientist named Georges Claude filled a glass vacuum tube with a rare gas called neon. He connected this tube to high voltage electricity by means of an electrode on each end causing it to a glow with a brightness that was before, unknown. Georges Claude, being not only a brilliant scientist, but an astute businessman, obtained international patent rights for his new discovery which bore the name Claude Neon.
The first neon signs were built in France and imported to the United States, however, this method of producing signs was impractical and soon licensing rights for the manufacture of neon tubing in the U.S. was sold to Federal Sign & Signal Co. of Chicago. In turn, Federal Sign sold franchises to other sign companies in various cities throughout the USA. Our name was derived from CLAUDE, the inventor, NEON from the product itself, and FEDERAL from the licensing company.
CNF Tulsa was opened in 1926 as a branch office with an additional branch office in Oklahoma City. The home office originated in Wichita, Kansas. Claude Neon Federal Signs became a Tulsa owned and operated sign company in 1955, and still is today.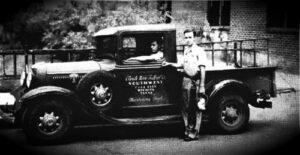 CNF offices and manufacturing plant are located Northeast of downtown Tulsa at 1225 N. Lansing Ave. Nearly nine decades have passed since that first store front location was opened and a great many changes have taken place in the industry. State-of-the-art, computerized equipment, along with the very best materials are used in the manufacturing of our signs. Some things haven't changed though, such as the quality of the signs we manufacture, to the service we extend to our customers, both before and after the sale.
Our clients can be assured that when purchasing from Claude Neon Federal Signs you're getting the very best sign we can build. It is CNF's belief that teamwork is needed to make a business great and CNF's team consists of approximately 58 people (6 union members), many with 20 plus years of experience. The team consists of 25 fabricators, 15 installers, 9 sales associates, and 9 office personnel and designers. CNF operates 9 crane trucks from 60' to 120' in height as well as 3 full time service rigs. Claude Neon moved into their 33,000 square foot manufacturing facility in 2008.
To learn more about signs for your business, contact CNF Signs today at (918) 587-7171. Our knowledgeable sales representatives will go over your many options to determine which sign style is going to generate the most business for you. Get a free quote for your custom signage and discover the difference this powerful advertising solution can make for you.