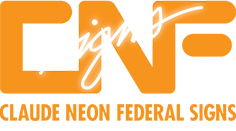 Claude Neon Federal Signs – Oklahoma's Premier Sign Maker
Experience, Expertise and Excellence are three words that describe the business philosophy at Claude Neon Federal Signs. Since our origins in the Tulsa area in 1926, CNF Signs has grown and expanded to the largest sign company in Oklahoma. From our beginnings in the "Oil Capital of the World", we have grown and expanded our capabilities to build and install on a regional basis. CNF Signs also manufactures and ships signage nationwide for customers that have come to expect our team to provide their national facilities with signage that reflects our attention to quality control and proven manufacturing. We continue to pursue new technologies and training of our personnel that allows CNF Signs to stay at the forefront in design and materials used to make your purchase one of the most original and dependable products on the market.
Our large team of employees works as a team to bring your vision from design to completion using the best methods of manufacturing and incorporating time proven materials and construction. We offer every type of signage from traditional to the most cutting edge designs. While we will not be the least expensive product in the market, we have taken the time to insure that your sign is constructed correctly and will provide the years of service that you expect.
All of us at Claude Neon Federal Signs feel that once a customer has purchased a sign from us, we will form a long term partnership with that customer. You will be part of the Claude Neon Federal Sign family. Our loyalty lies with you; our partner, to work with you to make sure your signage expresses your company in the best possible way and can tie into your overall marketing and information needs. Together, we are sure to come up with the perfect exhibition for your facility.
Call CNF Signs at (918) 587-7171 today.