Pylon ID signage makes a BIG first impression to your potential customers. Show the world you mean business with a bold pylon sign from CNF Signs. Our custom sign manufacturing company has operated in Tulsa for nearly 90 years, and many of our team members have worked in the industry for more than two decades. We have the tools, skills, knowledge, and expertise to create the perfect pylon sign for your business. Call us today at (918) 587-7171 for your free quote.
What Are Pylon ID Signs?
Pylon ID signs are set on top of large pillars so they can be seen from away. Styles and method of construction for pylon signs can vary widely, depending on your specific needs. The images to the right show just a few examples of pylon identity signage at work for our valued customers. Construction materials may include:
Flexible
Vacuum Formed Plastic
Routed Aluminum
Neon Lighting
LED Displays…and Much More!
Get the custom pylon sign you need to draw new traffic to your business when you work with the talented sign makers at CNF Signs in Tulsa, OK. During your free consultation, we will discuss details about your sign design, including the height of your display and the materials needed to best replicate your logo. No matter what you want your pylon ID sign to look like, we can build it for you.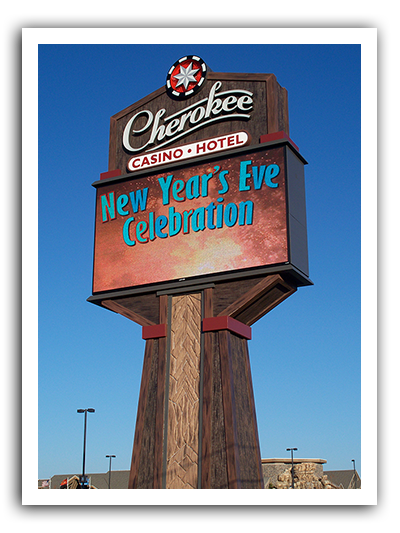 Common Applications for Pylon ID Signage
Pylon signs are perfect for businesses on highways and major streets because they can grab your customers' attention from a long distance away. Make your business stand out in the crowd with an eye-catching advertisement from CNF Signs. Pylon signage work in a wide range of industries, including:
Casinos
Restaurants
Churches
Zoos
Banks
Gas Stations
Schools
Event Centers
Parks
Hotels
Shopping Centers
No matter what kind of business you have, you can get the traffic you need to succeed with a custom pylon sign manufactured right here in Tulsa, OK. Call (918) 587-7171 now for your free consultation!

Other Popular Signs
Pylon ID Signs, Casino Signs, Monument Signs, Neon Signs, Projecting Blades, Wall ID Signs, Channel Lettering, Interior Signs, Wayfinding Signs, Pole Signs
To learn more about pylon signs for your business, contact CNF Signs today at (918) 587-7171. Our knowledgeable sales representatives will go over your many options to determine which sign style is going to generate the most business for you. Get a free quote for your custom pylon ID signage and discover the difference this powerful advertising solution can make for you.