Monument ID signs offer eye-level advertising for your business that's guaranteed to catch people's attention. These hefty, weighted signs are made to complement your architecture and enhance your corporate brand at the same time. From churches to hospitals and everything in between, businesses from all industries can benefit from monument advertising in their parking lots and on their street-side property lines. Get a free quote for your monument signage when you call CNF Signs today at (918) 587-7171.
What Are Monument ID Signs?
A monument ID sign is usually installed low to the ground without visible mounting poles. Many monuments have stone or fabricated bases that add gravity and heft to the display. There are several styles and fabrication methods used in monument signs, including:
Routed Aluminum
Vacuum Formed Plastic
Neon Lighting
LED Displays
Illuminated and Non-Illuminated Channel Letters
Cultured Stone Bases…and Much More!
Look through the images to the right to see some examples of actual monument ID signage from CNF Signs. Our design team will work with you to come up with a custom look for your monument sign that perfectly matches your building, business, neighborhood, and more. Call (918) 587-7171 for your free consultation so we can discuss your options with you.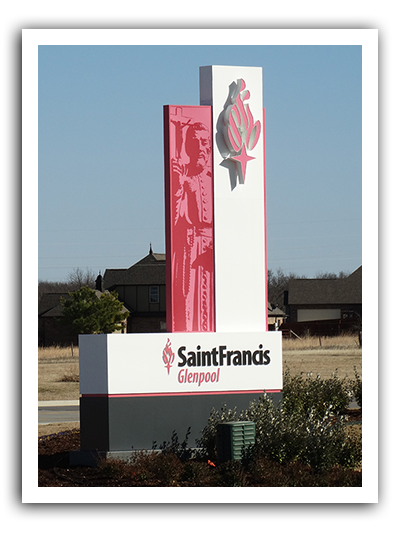 Common Applications for Monument ID Signage
Monument ID signs are used in a number of industries, and they often work in combination with other advertising signage to bring in traffic to a business. Since these signs are close to the ground, they work well in front of large business centers, parks, hospitals, and more to help customers know where they are. The images here show monument ID signage at work in many business types, including:
Medical Centers
Restaurants
Corporate Offices
Banks
Gas Stations
Schools
Airports
Parks
Casinos
Churches
Hotels
Museums
Put your business on the map with a custom monument sign from CNF Signs. These signs work best with other advertising options, like wall ID signs and pylon signs, to bring in traffic from every direction. Contact CNF Signs at (918) 587-7171 to find the best way to show off your business.
Other Popular Signs
Pylon ID Signs, Casino Signs, Monument Signs, Neon Signs, Projecting Blades, Wall ID Signs, Channel Lettering, Interior Signs, Wayfinding Signs, Pole Signs
To learn more about pylon signs for your business, contact CNF Signs today at (918) 587-7171. Our knowledgeable sales representatives will go over your many options to determine which sign style is going to generate the most business for you. Get a free quote for your custom pylon ID signage and discover the difference this powerful advertising solution can make for you.