Bring the beauty of signage inside with custom interior signs from CNF Signs in Tulsa, OK. CNF has experience in all kinds of interior installations, with work on rare Brazilian hardwood, granite, sheetrock, and everything in between. CNF can make your interior shine with stunning plaques, business logos, wayfinders, and much more. Build your corporate brand and help your customers get around your building with the help of interior signs from our Tulsa manufacturing company. Call today at (918) 587-7171 to learn about the many advertising solutions available to you.
What Are Interior Signs Used for?
Interior signs serve a number of purposes for businesses in nearly every industry. In some cases, they are simply used to display the name of the business in the entryway. They may also be used as navigation references to point customers to different stores, departments, or areas of a building. There are many styles and fabrication methods used in to make interior signs, such as:
Vacuum Formed Plastic
Flexible
Routed Aluminum
Custom Stone
Neon Lighting
LED Displays
Large Printed Graphics

Illuminated and Non-Illuminated Channel Letters…and Much More!
In the images to the right, you can see some examples of interior signs currently hanging in buildings for our satisfied clients. At CNF Signs, we have a full staff of designers, artisans, and machinists who can create the perfect displays to illuminate your business's interior. Call (918) 587-7171 today to speak with one of our knowledgeable sales agents about your options. Together, we will come up with the perfect plan for your business.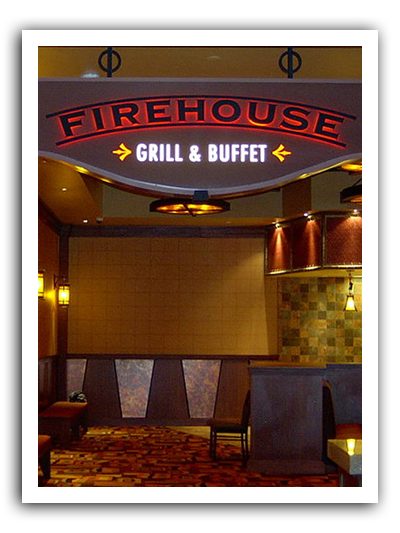 Common Applications for Interior Signs
Interior signs are used in a variety of applications, mostly in larger buildings with multiple rooms, departments, offices, etc. With that in mind, you could use an interior sign to show off the logo for your small business indoors, helping people connect with your establishment. Some of the most common locations for interior signs include:
Shopping Malls
Corporate Offices
Medical Centers
Restaurants and Food Courts
Airports
Casinos
Hospitals and Health Clinics
Hotels
Museums
Movie Theaters
To determine if interior signs are right for your business, you can contact CNF Signs and speak with one of our friendly associates. We will customize a design that's perfectly suited for your business. You may reach us by phone at (918) 587-7171 or stop by our manufacturing facility on Lansing Ave in Tulsa.
Other Popular Signs
Pylon ID Signs, Casino Signs, Monument Signs, Neon Signs, Projecting Blades, Wall ID Signs, Channel Lettering, Interior Signs, Wayfinding Signs, Pole Signs
To learn more about pylon signs for your business, contact CNF Signs today at (918) 587-7171. Our knowledgeable sales representatives will go over your many options to determine which sign style is going to generate the most business for you. Get a free quote for your custom pylon ID signage and discover the difference this powerful advertising solution can make for you.