Today, a large majority of signs tend to all blend together due to a lack of appeal. If you are looking for a way to stand out, channel letter signage is a great option. We know how important it is to maximize the look of your presentation. Channel letter signs attract attention while still keeping a very professional look. Channel letters can be constructed in almost any size, color or font. The flexibility enables us to create the best look to fit your needs.
What Are Channel Letter Signs?
Channel letter signs are three-dimensional graphic signs that are custom-made with either metal or plastic letters. The letters are painted and fitted with any lighting components necessary such as neon gas tubes or light-emitting diode (LED) modules.
A border is applied to its edges which gives the letter face a finished appearance and creates a fastening surface. When illuminated at night, channel letters draw the eye of passers-by.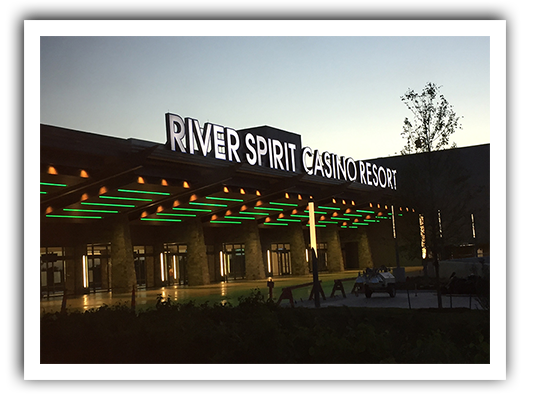 Common Applications for Channel Letter Signs:
Channel letter signs are perfect for grabbing attention. They are one of the most popular ways to advertise. Many national chains use channel lettering due to its high-visibility as potential customers pass by. In a world of uninteresting, stand out with something lively!
Some of the most common applications for channel letter signs include:
Restaurants
Businesses
Grocery Stores
Retailers
Churches
Other Popular Signs
Pylon ID Signs, Casino Signs, Monument Signs, Neon Signs, Projecting Blades, Wall ID Signs, Channel Lettering, Interior Signs, Wayfinding Signs, Pole Signs
To learn more about pylon signs for your business, contact CNF Signs today at (918) 587-7171. Our knowledgeable sales representatives will go over your many options to determine which sign style is going to generate the most business for you. Get a free quote for your custom pylon ID signage and discover the difference this powerful advertising solution can make for you.